HUMAN POWERED OR BATTERY POWERED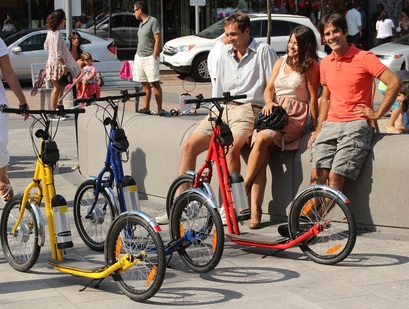 The Zümaround is an innovative electric kick scooter that is the personal transportation solution to commuting or recreation. Its benefits that outnumber those of traditional electric scooters or e-bikes. The Zümaround is the only stand-up kick scooter of its kind for adults, offering easier maneuverability, and greater stability and visibility than a bicycle. With 20″ pneumatic wheels, the Zümaround provides a smooth ride and gives you the option of sailing past traffic with the assistance of a battery, or adding some exercise into your day by propelling yourself.

Control how fast you want to go with the thumb throttle and feel the electric propulsion system kick in when you need it most. Hills and headwinds are no longer a challenge and you'll arrive at your destination without being out of breath or feeling like you need to take a shower.
Whether navigating downtown streets or casually rolling along a bike path, the Zümaround is not only a great way to get around, but is also a truly enjoyable riding experience.
Choose from four vibrant colors: 

red

, 
blue
, 

yellow

 or 
lime green.
Zümaround Technical Information
The maximum speed of the Zümaround is 20 mph (32 km/h) with a maximum range of 20 miles (32 km) depending on rider weight, terrain and wind conditions, and a carrying capacity of 375 lbs. The total weight of the Zümaround, including battery, is 36 lbs (16kg).
The Zümaround features a brushless, geared frictionless 250
w
 hub DC 
motor
, with two e-brakes, one in the front and one rear. The e-
brakes
 are standard bicycle v-br
akes coupled with safety cut-off switches that cut power to the motor when braking.
The Zümaround also includes an extendable handle bar, kickstand, bell, fenders, anti-fatigue platform and a double wall rim front wheel which adds rigidity where it counts. The tire pressure is 50 PSI.

The battery is a tube-type 36V9Amh state of the art Lithium-manganese battery that is lockable and removable for charging. It has a level indicator located on the battery. Under standard conditions (18

0 lbs person, 

flat terrain, no stop&go

, no head wind) the battery will last for approx. 20 miles on a single charge. 
The battery weighs five lbs. The battery 

can

 be charged a mini

mum

 500 cycles which equals to about 10,000 m

iles.
(16000 km)

.

The Zümaround is safe and efficient. No license or insurance is required. It complies with e-bike law safety requirements. You must wear a bicycle helmet, be 16 years old and follow all e-bike traffic laws.
There is a two year warranty on the Zümaround frame and a one year warranty on the battery and motor.
---